Nationwide Businesses was one of the first Business Transfer Agents to advertise on the Daltons Business website which was launched in 2002. We have advertised in the Daltons Weekly newspaper for over 50 years, Daltons Weekly was the place to buy and sell businesses this was published from 1870 until 2011. Unfortunately in September 2011 the Daltons publication was printed for the last time.
The Daltons brand is widely recognised and is the UK's largest businesses for sale website - commercial agents and private business sellers list thousands of businesses for sale. Nationwide Businesses advertise 2,000 of the 28,000 businesses for sale currently listed on DaltonsBusiness.com. If you are looking to sell a business contact us and we will add your business to all the leading business sales websites.

Nationwide Businesses was the first and oldest customer of BusinessesForSale.com which was launched in 1995, here at Nationwide we immediately saw the benefits that an online portal can offer and have supported Businesses for Sale ever since.
Andrew Markou is the managing director of Businesses For Sale .com and even built the original search engine behind our website, this has helped enable us to become one of the UK's leading business Transfer Agents. We advertised in the Businesses and Premises For Sale magazine which originally owned BusinessesForSale.com, but unfortunately ceased publication in 1998.

Nationwide businesses once again was one of the first clients of Right Biz, who have rebuilt the way businesses are searched for across the UK.

One of the newer business for sale website but is showing great potential to become a market leader.

Once again it is one of the newer Business for sale portals but delivers some results and is showing potential along with other new comers.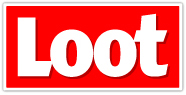 Well known weekly paper with an online website to deliver results.