Reference R8618
Chicken & Pizza Shop in Nottinghamshire for sale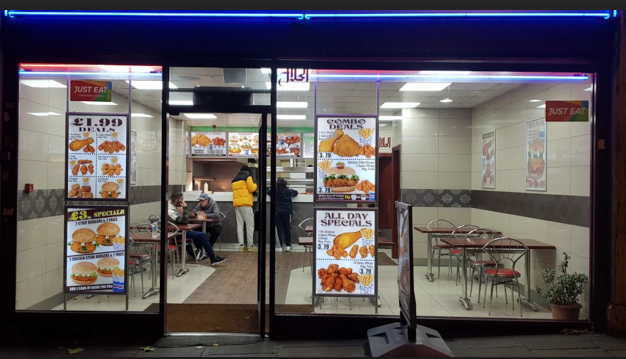 Location
Situated in a parade, excellent main road trading position, NOTTINGHAM.


Features
Fully Equipped Chicken Shop (catering For Chicken, Burgers, Piri Piri Chicken, Pizzas and Chips)

DOUBLE FRONTED CHICKEN SHOP with tiled floor. 7 tables and 28 chairs. Large counter. Computerised till with EPOS system.

Open plan KITCHEN AREA with non-slip floor, tiled walls. Equipment includes 2 Henny Penny chicken pressure cookers, Piri Piri oven, single deck pizza oven, large 3-burner grill, breading table, stainless steel table, double deep fryer, upright double-door white fridge, 2 chest deep freezes, double sink and drainer, etc.

First floor: 2 cloakrooms, each with w.c. and wash hand basin.


Turnover
WE ARE INFORMED the turnover averages £2,500 p.w. (we understad the turnover is split approximately 50% takeaway with the balance being from the restaurant). In our opinion there is terrific potential to increase the deliveries, if desired.


Price
TO INCLUDE THE SECURE LEASE, GOODWILL, FIXTURES & FITTINGS, £29,500 plus stock at valuation.
SUBSTANTIAL LOAN TO AN APPROVED APPLICANT.


Register to see Full Details
Buy a Chicken & Pizza Shop in Nottinghamshire for sale on NationwideBusinesses.co.uk